"Life is not measured by the number of breaths we take, but by the moments that take our breath away"
The bursting disc, on the contrary, is measured one successful cycle at a time.
And in that equal but opposite light, the bursting disc mirrors life. After being tested to its absolute limits, the rupture disc still emerges as the strongest solution for your last line of defense.
For example:
In applications of oil & gas, delivering the energy our world needs
In chemistry
In the manufacture of medicine, that itself saves lives
Even in the brewing of beer — pressure cycling is a problem
A rupture disc cycle is the shift from positive operating pressure to operating in the vacuum condition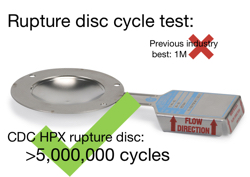 In comparison, imagine blowing a bubble 5 million times without popping. In essence, Continental Disc Corporation did just that.
In a market where inferior knockoffs deliver 20% that durability, a CDC rupture disc was tested to 5 million cycles without failure.
And after five times more testing – four million more cycles than second place – to still pass as new, while adhering to exact codes and specifications, is an engineering feat, owing to the innovative spirit, and intellect inspiring their rupture disc design and build.
The pressure-vacuum cycle testing was conducted with the HPX-95 sanitary rupture disc being pressurized on the convex surface (upstream side) to the maximum operating ratio.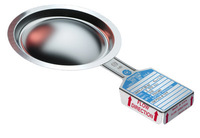 Then the pressure was abruptly released, and simulated vacuum was applied to downstream side of the CDC bursting disc.
The downstream pressure was set at 15 psig to simulate full vacuum being applied.
But in applications, the durability means business.
It means minimal downtime, ensuring critical equipment functions through pressure/vacuum cycles that would otherwise threaten its make up. In some industries, such as automotive, downtime costs $22,000 per minute. Not only do world class, industry leading rupture discs ensure minimal short-term downtime, but they also prevent total equipment loss, an epic, costly impairment to keeping a factory functioning.
It means minimal product loss, a hallmark trait of a strong rupture disc. Rupture discs differentiate themselves from the pressure valve in their sealed design, thus preventing machinery, tanks and other applicable mechanisms from leaking critical material.
And it means safety. It is the rupture disc that stands between you, your employees and your business as the last line of defense against potential tragedy.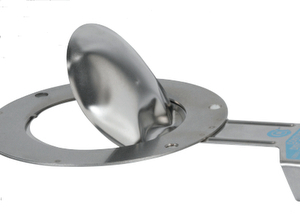 High-cycling is one of the largest compliments a rupture disc can obtain. Successful operations come from efficiency, routine, and sequential manufacturing processes built for the long run.
Since the industrial revolution, our economics have relied on economies of scale, requiring lean, efficient – and reliable machinery.
In the most demanding pressure-vacuum manufacturing environments, often producing some of our most important products, the dominating factor is to maintain reliability, quality and safety – and do so repeatedly, is beyond compare.
With a product tested to 5 million cycles, the Continental Disc HPX® disc will be there to do its job – to protect
You can rest at ease knowing that if it comes down to that moment, the CDC rupture disc will be there to perform that one final act. It's tested. It's proven.
For further information related to CDC rupture discs, please send us a product enquiry or contact Myles Sheehy on Ireland: +353 21 4510900 or Darryl Flowers on UK: +44 1633 877505
Re-Post: Originally posted by CDC News