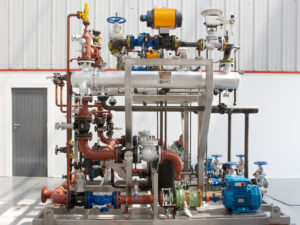 The Skid System can be manufactured in several materials such as carbon steel, stainless steel, or high alloy materials. The skid can be supplied with an onboard full control system with PLC (Programmable Logic Controller), HMI (Human Machine Interface) or standard Analog Control. Alternatively, it can be supplied wired to Skid Mounted Junction Boxes or not wired at all to allow the end user to control the system from their own DCS System (Distributed Control System). The above is then mounted on the main base frame to create a modular system which completes a full turnkey operating System.
ESI For Your Skid Design & Manufacture
ESI's expertise in skid design and building in Ireland and the UK is your guarantee that any skid you commission will meet and often surpass your requirements.
When engaging a utility or process skid manufacturer, you need someone with the expertise to deliver:
What you need
When you need it
At the right price
Lowest possible operating costs
With over 100 years in the process business, you can rely on ESI to meet all these requirements. Drawing on the expertise across the various ESI Process Equipment Divisions. Our team of design engineers can take a customer requirement from the concept stages through to completion and site commissioning.
We can draw on our many years of engineering experience to ensure that the right equipment is selected for your skid and can draw from a wide variety of best-in-class vendors. This often results in the specification of equipment which is more suited for the task at hand, and it will result in either significantly lower operating costs or more efficient performance.
We will work with you to assist in JIT production by utilising our warehouse/manufacturing premises to ensure that your process skid arrives on-site ready for connection. We work closely with the End User's project team and operators to ensure site requirements i.e.; ease of maintenance or cost of ownership is part of the design from conception to completion and on-site commissioning.
ESI operates several business equipment franchises and can leverage significant purchasing power to deliver complete skid packages more competitively than many other system providers and on-site contractors, often with savings of between 20 and 40%.
To reach us in Ireland, please call +353 21 4510900, and for the UK, dial +44 1633 877505. Alternatively, you can conveniently connect with us via our online form or web chat.
FAQs 
Case Studies