Traditionally the industry has used exotic alloys, such as Zirconium / Titanium / Hastelloy C / Hastelloy B / Tantalum when handling corrosive chemicals such as:
Hydrochloric Acid
Sulphuric Acid
Nitric Acid
Hydrobromic Acid
Hydrogen Iodide
Phosphoric Acid
Perchloric Acid
Hydrogen sulfide
Formic Acid
Acetic Acid
The issues with such exotic alloys have not just been performance (i.e. compatibility), but also availability and cost.
Traditionally the alternatives to using exotic alloys have been coatings such as PTFE, which has temperature limitations and the associated problems with being a coating rather than a bonding
So is there a solution, other than using Zirconium / Titanium / Hastelloy C / Hastelloy B / Tantalum?
Yes…
Use an element such as Tantalum (no 73) which is a refractory metal, is highly corrosion resistant, with unmatched performance in acids and is biologically inert.  To avoid the costs & lead time associated with this type of element, use a product which has been subject to a vapour deposition in a vacuum chamber at high temperature, thus forming a metallurgical bond of Tantalum within and on the surface area
Does such a process exist?
Yes…
Tantaline is a product invented in 1989 and first tested on Hydrochloric Acid in 1993.  Some of these original components are still in use today
Tantaline is bonding and is far superior to a coating: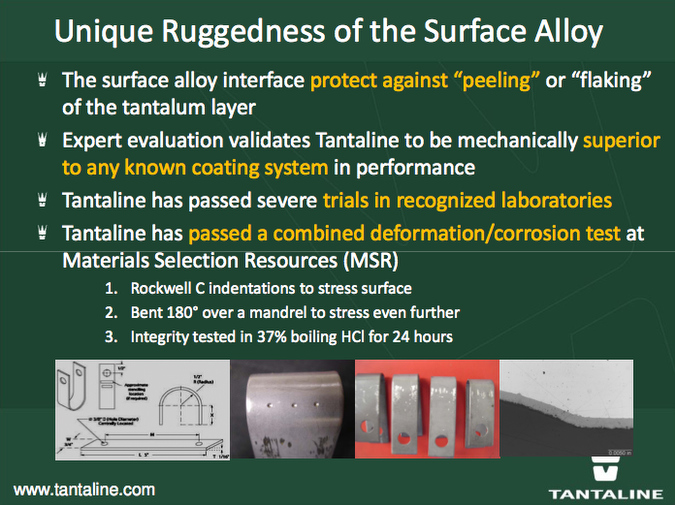 Tantaline is suitable for many industries, including:
Chemical and Agro-chemical
Petrochemical
Energy
Mining and materials
Engineering
Laboratory services
Pharma
Food
Water treatment
Tantaline is more cost-effective than traditional exotic alloys and is normally available at drastically reduced lead times versus other technologies: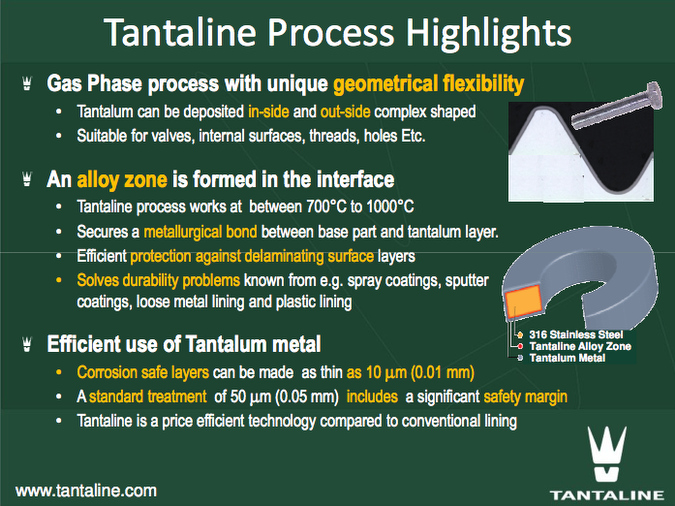 Products for which Tantaline may be used include:
Heat Exchangers
Instruments
Pumps
Safety relief
Valves
Reactors
and many more
If you require further technical details of the Tantaline process please send us a product enquiry or call Ire: +353 21 4510900 or UK +44 1633 877505