A Diaphragm Valve consists of a valve body, elastomeric diaphragm and associated top works.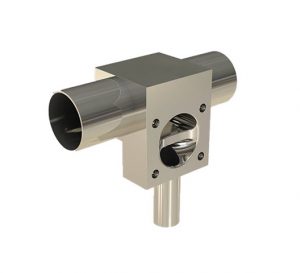 Diaphragm Valve Bodies:- the most common has a "Weir". Diaphragm Valves can have one or more "weirs" and are called Two Way, or Multi Port Valves. On valves that have a weir,  the valve can close or seal by compression of the diaphragm onto this weir.
Designs like the Saunders Valve also feature a raised profile edge on the diaphragm that matches the inner profile edge of the valve port, enclosing the flow path to provide additional protection against leakage. In addition to this, they also have the same feature located where the compression on the weir and the diaphragm takes place, helping to prevent bypass. For high purity applications, the design of the weir-style diaphragm valve is the go-to valve within the biotechnology and pharmaceutical industry due to the features mentioned above.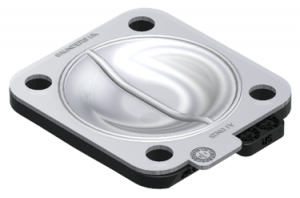 Elastomeric Diaphragm:- these are chosen based on process application and material compatibility. Available in EPDM, PTFE, and TFM, amongst others. The selection must also allow for the temperature range the valves operate within. The security a diaphragm valve has, with its unique design, no rotating parts in contact with the process fluids, ensures no leakage through the stem as with a typical ball valve.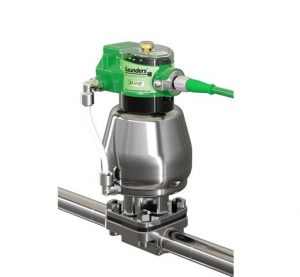 Top works, either manual, pneumatic or electric suitable, all to suit the end users' systems and requirements. Basic manual or high-end feedback to the modern DCI systems like the Saunders I-Vue self-calibrating multifunctional top works.
ESI For Your Diaphragm Valve requirements
ESI Technologies are partnered with Crane Saunders® to be their HC4 Aseptic Diaphragm valve Channel Partner in UK and Ireland and Industrial diaphragm valve distributor in Ireland. P K Saunders invented the original diaphragm valves in 1928 and since then Saunders® have been leading the way in high performance and innovative design.
Saunders® offer a wide range of valves suitable for many critical processes in both the corrosive and abrasive industrial sector as well as the highly sensitive and regulated BioPharma industry. For the last 92 years, Saunders® has developed cutting-edge technologies resulting in diaphragm valves that can handle a wider range of fluids than any others in the market.
As well as two-way hygienic valves we also supply zero dead legs, tandem, closed couple branch, tank outlet, and diverter valves, and if none of the above quite match what you are looking for Saunders® can create a custom block valve to meet your requirements.
Our Diaphragm Valves Comply With All Applicable Global Standards For the Life Science Market, Including:
FDA CFR 177.1550 (PTFE), 177.2600 (Elastomer)
USP Class VI
Traceable to EN 10204 3.1
3A Certification
Animal Derived Component Free (ADCF)
ASME BPE
Testing to BS EN 12266-1
ISO 9001
CE and PED 97/23/EC
We can also support the supply of related accessories for these valves. With so many options on diaphragm material, actuation, switch boxes and more, the possibilities are endless.