Understanding the Mechanism of Centrifugal Pumps
Centrifugal Pumps operate by adding energy to the liquid through a rotating impeller, which results in increased pressure and flow rate. The fundamental principle dictates that higher impeller rotation speeds generate greater flow and pressure. Doubling the rotational speed doubles the flow rate while significantly increasing the pressure by a power of 4 and the absorbed power by a power of 8.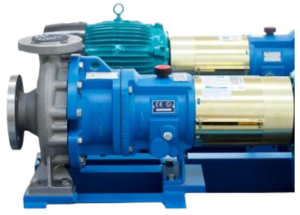 ESI Technologies Group offers an extensive range of industrial and heavy-duty process centrifugal pumps, including ANSI, ISO, long coupled, close coupled, and Discpac technologies. Our team of product specialists possesses the expertise to identify the optimal centrifugal pump that best suits your specific process and application requirements.
Varieties of Centrifugal Pumps
Centrifugal pumps can be classified into different types based on their impeller configurations, including:
Overhung Impeller
Between Bearings or Turbine Type
These types can further incorporate various impeller designs, such as open, semi-open, closed impellers, or double suction, depending on the desired application.
Categories of Centrifugal Pump Designs
Centrifugal Pumps are available in different designs tailored to meet site standards or specific preferences. Common categories include:
ANSI
DIN
ISO
Each design can be customised to adhere to client requirements, ensuring compatibility and compliance with industry standards.
Diverse Applications of Centrifugal Pumps

Centrifugal Pumps find applications in a wide range of industries and processes, including:
Wastewater treatment, facilitating efficient fluid handling in treatment plants.
Circulation of heat transfer fluids in industrial heating and cooling systems.
Mixing and transfer of liquids within industrial, chemical, pharmaceutical, and petrochemical sectors, where heavy-duty process pumps are essential.
Any process that necessitates the movement of liquids from one location to another, ensures smooth operations and efficient fluid management.
FAQs
Contact ESI Technologies Group for Expert Guidance
For more information on centrifugal pumps or to discuss your specific requirements, please don't hesitate to contact ESI Technologies Group. Our dedicated product specialists are available to provide tailored solutions that meet your process needs effectively.
To reach us, please call our Ireland office at +353 21 4510900 or our UK office at +44 1633 877505. You can also reach out to us via our online form or web chat.
ESI Technologies Group is committed to delivering high-quality centrifugal pump solutions that optimize fluid transfer, enhance productivity, and ensure reliable performance across various industries.