For highly corrosive applications, the user is either looking at exotic materials or a PTFE lined filter housing. However lined products can have limitations:
Breach of PTFE integrity: with repeated insertion and removal of the element, the lining at the element connection point may begin to wear. This wear can then spread as the fluid penetrates between the lining and the housing itself
Static Build Up: static build up from the PTFE occurs, when operators change out the spent filters. This has the potential to cause a static discharge in an Explosive Area. This obviously has major Health & Safety implications.
Solution: Amazon have worked in collaboration with one of the worlds leading pharmaceutical companies to develop a carbon impregnated PTFE filter housing which is fully conductive
Amazon's brief was firstly safety but also compatibility with the fluid and process conditions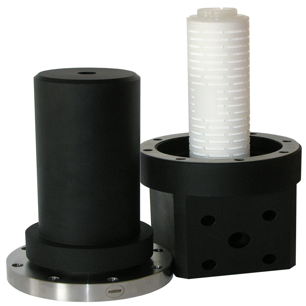 All contact parts are PTFE including vent and drain valves
Rated for full vacuum
Excellent alternative to Hastelloy or lined housings
The Fully Conductive PTFE Filter Housing is just one of a range of filtration housings that ESI supply
For more information on filter housings or filtration problems in general, contact Derek Clifford on +44 1633 877505 or +353 21 4510900. Alternatively, use the contact form and we will contact you
Another alternative for highly corrosive applications is a technology called Tantaline. Click here for more information on Tantaline