If a critical control valve fails what are the implications, and cost, to a plant?
The following 4 steps can reduce the likelihood of an unscheduled shut down or worst-case should ensure that systems are in place to return the plant to normal operation, as quickly as possible:
Know the critical components in the installed base
Minimise failure of critical control valves
Valve specialists remote monitoring
Planned maintenance shut-downs
Step one: know your installed base down to the last critical component. Emerson have launched an online "Installed Base Tool – IBT":
The Installed Base Tool will, once provided with unit serial numbers:
Record all valves installed at the location on the IBT website
Provide total spares visibility, prices and lead times
Generate interchangeability chart for the installed base
Manage obsolescence to ensure replacement valve engineered prior to total failure
Log all repairs and upgrades
Step two: minimise critical control valve failures.  The control valve is the mechanical component controlling the plant and yet can be significantly out of tune, compared to the instrumentation in the control loop which is probably working to +/-.005% tolerances.  Steps which can be taken to improve the performance of the critical control valve and its up-time, are:
Implement control valve flow-scanning diagnostics such as FlowScanner™
Upgrade positioners to DVC with Performance Diagnostics
Perform in line calibrations without affecting the process.
Use the wireless THUM to report on any deviations or alarms locally.
Step three: remote monitoring by valve specialists, who can:
Review any deviations in performance
Interrogate alarms
Alert site of issues and actions required
Order spares
Dispatch a repair team
Step four: planned maintenance shut-downs. A recent survey found that only 30% of valves pulled from the line during shutdowns actually needed to be pulled, the remaining 70% could have been serviced in-line, so why strip valves out for inspection and repair if they are fully functional?  The DVC Positioner with diagnostics capability, as mentioned in Step 3, can provide you with the information to make informed decisions.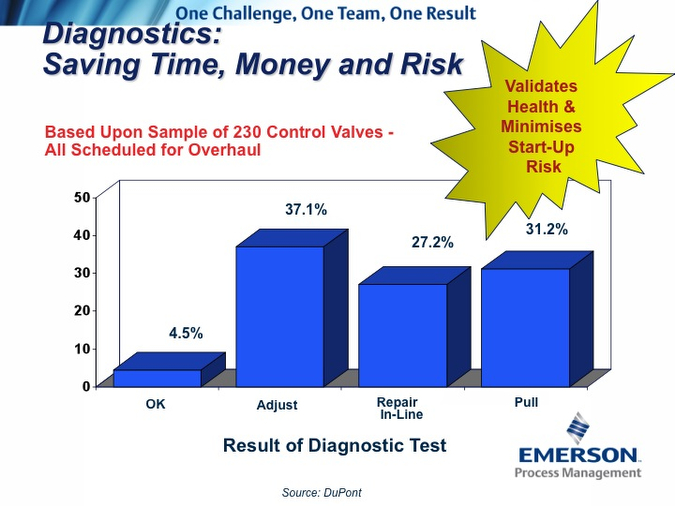 The above steps will help to:
Know the critical control valves that require attention
Know which resources are required to effect the rework
Know which spares are required
Implementing the 4 steps above will improve the performance of a plant's critical control valves and therefore plant performance. Please contact ESI Technologies if we can be of assistance: Joe Walsh on Ire +353 21 4510900 or UK +44 1633 877505