DVC2000: a Hart-Communicating Digital Control Valve Positioner / Controller. Simple, easy to use, digital valve controller. Non-contact, linkage-less valve position feedback system, with no touching parts
Features:
Linkage-less, non-contact valve position feedback system
Local user interface including a LCD and pushbuttons for navigation
7-language support
Automatic tuning
2 Integrated limit switches (1 mA or 4 mA output for open or closed indication)
Integrated valve position transmitter (4-20mA output)
NAMUR mounting
Compact size for small valves and tight spaces
HART Communicating
Benefits:
Simple, easy to use, digital valve controller. Non-contact, linkage-less valve position feedback system. With no touching parts, the feedback system capitalises on magnetic technology while improving instrument reliability on linear or rotary valves.
Simple to configure: with the full text, multilingual local user interface. English, German, Italian, Spanish, French, Chinese and Japanese languages are supported in every device.
Supports the unique Performance Diagnostics (PD) capability of FIELDVUE instruments. While the control valve is operating, critical valve performance information is available to evaluate and make decisions regarding the health of the entire control valve assembly. Information is communicated to the appropriate personnel via a red-yellow-green snapshot and is further supported with recommendations on how to correct any identified problems.
Simplicity: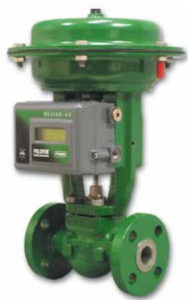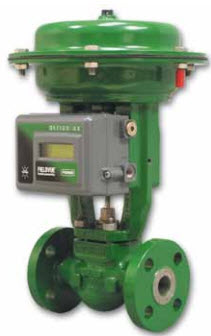 The DVC2000 is easy to use. If you are mounting the instrument for the first time, the linkage-less feedback system is easy to install. Once a magnet array is assembled to the valve stem, positioner replacement is simple since there are no physically connected parts.
At its very basic functionality, the DVC2000 digital valve controller has a local user interface that will allow you to configure, calibrate, and tune the instrument. If the I/O Options Package is installed, you can calibrate the 4-20 mA transmitter and configure the limit switch action. Running the Quick Setup routine calibrates and tunes the instrument specifically for that actuator.
The full text display in the local interface is easy to navigate, in part due to the selection of languages. Each unit can be configured to display multiple languages.
Reliability—The DVC2000 is based on the field-proven FIELDVUE technology. Years of control experience has brought this product line to a high level of reliability and dependability.
Performance—The two-stage positioner design provides a mechanical platform that enables responsiveness to small input changes and tighter process control. The digital tuning algorithm allows optimal response to get the valve to its desired position quickly.
Diagnostics—Local User Interface: DVC2000 instruments come standard with a liquid crystal display. Predefined instrument and valve diagnostics are built into the firmware to alert you if there are any problems with the mounting, electronics, hardware, or valve performance.
Handheld Field Communicator: DVC2000 instruments are packed with user-configurable alerts and alarms. These flags provide notification of current status and potential valve and instrument problems through alerts such as travel deviation, travel limit, cycle count, and travel accumulation.
AMS ® ValveLink ® Software: With ValveLink Software, tests can be performed to identify problems with the entire control valve assembly. Using the valve stem travel feedback, actuator pressure sensor, and other sensors on the instrument, the health of the control valve can be evaluated while the valve is still in service and fully operational. This helps to pinpoint problems without disrupting the process – before the equipment fails.
I/O Options Package— The DVC2000 is available with an I/O Options Package which includes two (2) integral limit switches and a stem position transmitter. The limit switches are configurable for open and closed valve indication at any point throughout the calibrated travel range. The position transmitter provides a 4-20 mA signal for valve position feedback verification. As an integral component to the instrument, this option module avoids the need for difficult-to-mount external switches and transmitters
For further information fill out enquiry form, or call Peter Barry on +353 21 4510900 or +44 1633 877505, to discuss your application