Demanding industrial plant processes need to run safely at all times. But in emergencies, the performance of system safety measures for immediate shutdown is particularly critical in preventing catastrophic outcomes. This is even more acute in high-flow, high-pressure, cryogenic or high-temperature environments. In such environments, emergency scenarios such as system failure, flooding, the outbreak of fire, explosions, or the escape of hazardous materials can have potentially far-reaching and dangerous consequences for humans, the environment or even populations. They can cause production losses and costly harm to plant assets.
In these scenarios, the ability to rapidly shut off fluid and/or gas flow can mean the difference between a manageable situation and a potential disaster. This means that to protect assets reliably, people, and the environment, you need an economically-viable emergency shutdown (ESD) system that you can rely on to shut down specific processes in a safe and orderly manner during an emergency and help minimize the potential for damage and injury. This is becoming an increasingly complex challenge in cases where such demanding processes are involved, especially where high-torque valves are used.
In this blog post, we will be focusing on how Habonim's special ESD valve automation packages for large, high-torque valves, which are common in such demanding applications, can give you the peace of mind you need to ensure that industrial plant catastrophes are prevented.
Highly reliable and optimized ESD packages that meet strict safety and compliance standards
ESD systems – a valve, an energized device for the valve emergency operation (usually an associated actuator) and an emergency release mechanism – perform a critical function in processes and systems. For this reason, it's essential that these components meet stringent international quality and safety standards, and that their selection, sizing and integration into a single system guarantee reliability and safe use when it's most critical.
Larger High Torque Valves
At ESI, we have extensive experience in both valves and actuators. This enables us to supply highly reliable and optimized ESD packages for a wide range of industries and applications that meet the strictest safety standards and the most stringent requirements. Our ESD packages are certified to work in a SIL3 loop (SIL IEC 61508), providing reliable and rapid closure in the case of a system malfunction. They are tested and certified for transportation, harsh vibrating use, marine installation, and more.
Fastest closing times on the market
A fast closing time is essential for valves operating in ESD systems. Habonim's proven, fast-action COMPACT™ actuator, which is the heart of our ESD package, meets and exceeds this need for both standard and high-torque valves used in ESD systems. This unique, quarter-turn rack and pinion actuator work in SIL3 loops to provide reliable and rapid closure in case of system malfunction. Using our patented four-piston design, which generates torque around a centrally-located piston, it doubles the torque of standard, two-piston pneumatic actuators. This reduces the package footprint and translates into double the power for the same size actuator or half the size for the same amount of power.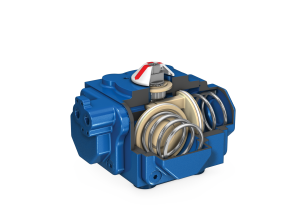 The COMPACT™ actuator is ideal for ESD systems as it offers the fastest shutdown speed on the market – approximately 0.2 seconds for our small 100nm actuators and with our unique adaptations, less than one second using our larger 3,000nm-4,000nm actuators. Moreover, it can be seamlessly integrated into ESD systems and allows millions of cycles before maintenance is required.
Unmatched performance for applied torques of more than 4,000nm
Ensuring fast closing times for high-torque valves (1,000nm and higher) in ESD systems poses a complex challenge that few manufacturers can solve, especially wherever Safety Integrity Level (SIL) loops are a mandatory requirement.
One of the main reasons for this is that when sizing actuators for ESD systems, the safety factor usually ranges from 1.5 up to 2.0. This results in very large actuators with slower opening and closing times. To overcome this challenge, we calculate extra power when sizing the actuator to ensure it will successfully close the valve even with unexpected loads (higher torques) that may arise during industrial use in demanding applications and environments.
By optimizing valve construction to reduce braking and close torques beyond that of standard valves, and implementing a variety of innovative techniques, we can dramatically improve the actuator's closing or opening times. The unique combination of these two capabilities results in the unmatched performance of the complete ESD high torque valve system of less than one second with applied torques of more than 4,000nm.
Using Habonim's actuator with a 1,750 Nm spring torque, an 8" line is closed in less than 1 second.