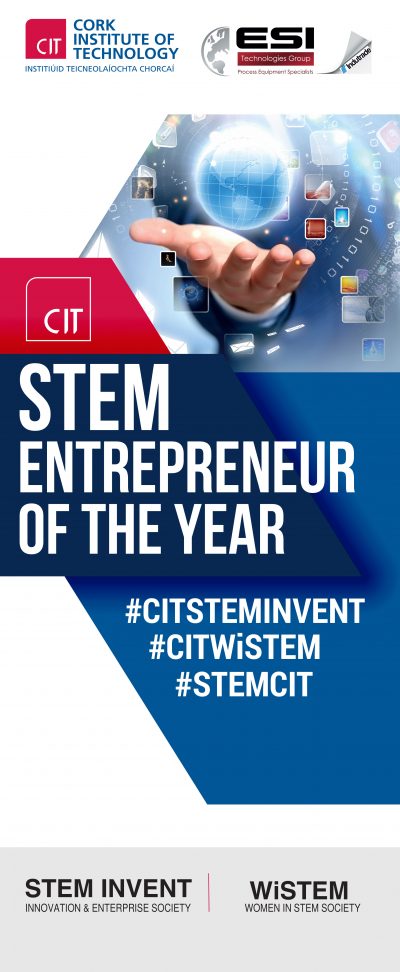 Entrepreneurship & Innovation are a part of ESI's & Indutrade's DNA and hence to mark its 100th year, ESI has engaged with CIT to launch a new STEM innovation and entrepreneurship initiative entitled STEM Invent. This initiative will encourage CIT's 6,500 STEM students to explore how they can convert their own entrepreneurial ideas into business opportunities with the ultimate aim of creating rewarding and sustainable enterprises in their own regions and communities.
Morgan O'Brien, Indutrade Senior VP , wanted to provide the next generation of STEM entrepreneurs and innovators with a head start in the race to build their own businesses.
Within the CIT High Performance Environment & with a little encouragement and support, I believe that many STEM graduates, through entrepreneurship and innovation can succeed in building their own businesses and creating employment in their own communities. To become the future leaders. Therefore ESI & Indutrade are delighted to support the CIT in this endeavour."
ESI will offer a student prize fund of €5k per annum, open to all students of the Faculty of Engineering & Science in CIT, for the best proposals to convert STEM-related ideas into business opportunities. To facilitate the process, all students will be offered training by the CIT STEM Innovation & Enterprise Society in the areas of business idea generation and proposal writing.
The benefits of taking part in this initiative goes far beyond the opportunity to win prize money. Design thinking, developed in Stanford University, is "optimistic and playful, sunny and casual, innovative and entrepreneurial" (Bernstein & Linsky, 2016). This process utilizes the principles of a customer-centric design to solve problems across sectors such as business, social and education. This customer-centric process was originally used within the field of product design but has recently been successfully applied in a number of differing fields such as services, health care and education.
Students who take part will be introduced to design thinking in an interactive workshop. Completing a design thinking workshop and creating a business plan based around this versatile platform are two great additions to a student's CV leaving college, which is of growing importance due to the competitive nature of securing a job straight out of college. Secondly, training students in design thinking will provide innovative value in their respective field once established in an organisation. The benefits of design thinking have been reaped by huge multinational organisations which has ultimately led to increased profits of these companies.
Michael Loftus, Head of Faculty of Engineering & Science in CIT "We are delighted to receive the support of ESI to develop the capabilities of our STEM students in the areas of entrepreneurship and innovation. Many of our graduates have achieved great success in business. We expect that even more will now succeed with the support received from ESI & Indutrade."

Dylan Hennessy, Chairman of the Society, said, "Our students are delighted to receive this sponsorship from ESI / Indutrade. It will help us to hone their business development skills and produce the next generation of entrepreneurs in the region. It will also position them to take full advantage of CIT's innovation ecosystem to develop their business ideas through to commercial exploitation through follow-on programmes such as:

Student Inc., New Frontiers and  Exxcel (Female Entrepreneurship) all based in the Rubicon Centre."
Launch night of the CIT STEM Entrepreneur of the Year 2020
ESI would like to thank CIT for their warm hospitality at the launch night.  Thanks to all who attended, with special thanks to CIT President, Barry O'Connor for launching this competition, CIT innovations & Enterprise Society, the CIT Women in STEM Society and the CIT Innovation & Enterprise Office.