Brand New – EZBio® Single Use Bottles Assembly
Better Features. Better Performance. Better Price.
Foxx Life Sciences is pleased to introduce their newest product line: EZbio® Single Use Assembly.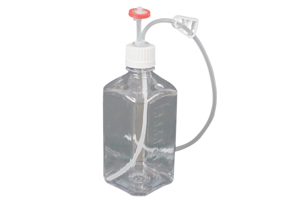 Their Single Use Assemblies are perfect for fluid transfer and storage. The assemblies take advantage of Foxx's patented VersaCap® technology which means there is no machining necessary to produce the product. They are perfect for single use applications and to phase out costly stainless steel apparatuses that are expensive to clean and validate.
Features:
0.2μm Hydrophobic PTFE filter for ventilation and to prevent the media from escaping in the event of a spill
Rigid dip tube with notch to allow for easy filling and extraction of media
Available in 250mL – 2000mL PETG and PC bottles
Made entirely with USP Class VI components and Gamma Irradiated in the United States
For more information please send us a product enquiry or contact Emma Duffy in Ireland: +353 21 4510900 or UK +44 1633 877505. For Benelux contact +31 85 0499770 or mail: Rob Mijnsbergen