Use of PVDF foam in cleanroom insulation applications
As products in the life sciences sectors become ever more sophisticated and the regulatory environment commensurately stricter, the standards that apply to manufacturing become increasingly more rigorous. This is particularly important in the construction and operation of cleanrooms. The environment must be safe and sterile, resistant to contamination by particulates or microbes, and with materials robust enough to withstand aggressive chemical and high-temperature cleaning.
Construction materials for cleanrooms must therefore combine chemical stability, durability, purity, and fire resistance, as well as resist the development of mould, fungi, and other microbial species.
Polymer-based materials, in particular fluoropolymers, are often used in sheets or as a coating for walls, while foamed material is used to create lightweight structures, walls, partitions, ceilings, pipe and ducting insulation.
T-Fit Clean
ZOTEK F high-performance foams, manufactured by Zotefoams from Kynar PVDF polymer, are the material used to produce T-FIT Clean, a range of insulation products purpose-designed for use in cleanrooms. PVDF films, coatings and foams are considered an appropriate choice because covering exposed surfaces with PVDF provides a high purity 'inert' surface, which does not readily support the growth of microorganisms and provides the much-needed resistance to withstand chemicals used today and possibly much harsher ones in the future for cleaning and sterilisation.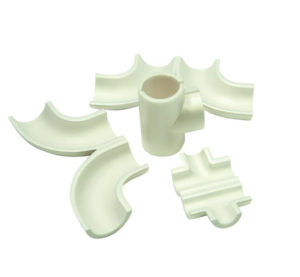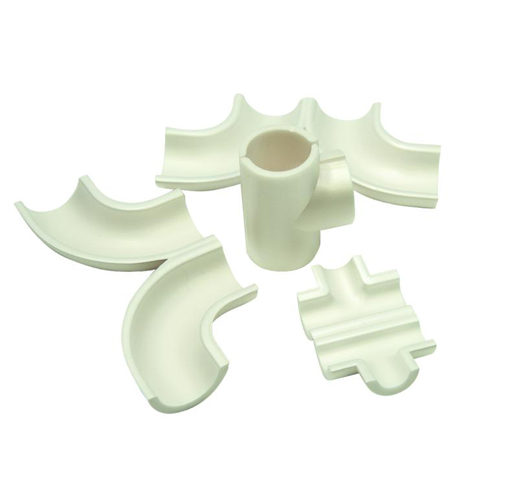 It is also important to consider fire resistance, low smoke generation, low moisture absorption, insulation values, abrasion resistance, and non-shedding characteristics to prevent the introduction of particulate contaminants into the manufacturing process when selecting materials and surfaces.
Antifungal properties
The low surface energy of fluoropolymers inhibits mould growth. ZOTEK F42 HTLS foam insulation was tested according to ASTM G21-15 (2015) Standard Practice for Determining Resistance of Synthetic Polymeric Materials to Fungi and the results showed no observed growth after the required 28-day exposure. The synthetic polymer portion of these materials is usually fungus-resistant in that it does not serve as a carbon source for the growth of fungi. It is important to establish the resistance to microbial attack under conditions favourable for such attack, namely, a temperature of two to 38°C (35 to 100°F) and relative humidity of 60 to 100%. Therefore, it is also important that the materials used are hydrophobic in nature. PVDF polymer is inherently very pure and hydrophobic.
Fire resistance
In order to limit fire and smoke risk in cleanrooms, Factory Mutual (FM) has established fire and smoke standard called FM4910 (Cleanroom Materials Flammability Test Protocol).
Insulating foams are particularly susceptible to the effects of fire because of their high surface area, low mass, and high heat release rate. Many polymeric materials will readily burn and produce large amounts of smoke as well as contribute significant fuel load should a fire occur. They, therefore, require the addition of flame retardants to reduce the risk of fire and flame spread. By contrast, fluoropolymers, especially PVDF, prevent and minimise fire hazards. PVDF is a pure polymer and is inherently flame-retardant without additives.
Chemical and thermal resistance
Fluoropolymers exhibit superior chemical resistance and can withstand the harshest cleaning and disinfecting agents. PVDF resins are also resistant to a wide range of chemicals, posing a little problem for Kynar PVDF.
High-temperature cleaning is a very effective way to control bacteria development. There are versions of PVDF insulation that can withstand continuous temperatures of 145°C and short excursions to even higher temperatures.
Other properties
Additionally, PVDF is resistant to sunlight (UV) and radiation exposure. In the medical industry where gamma radiation is utilised for sterilisation, PVDF is known to be minimally affected by relatively large doses of radiation over time.
Conclusion
Materials used in the construction of cleanrooms must demonstrate excellent chemical and fire resistance and must not support the growth of fungi and other microbial species. Stringent cleaning and disinfection procedures are also critical to controlling fungal contamination in the cleanroom environment. Cleanroom materials must therefore possess excellent chemical resistance to be able to withstand the most aggressive chemical cleaning methods.
The above article by Ron Partridge and David Seiler from Arkema, and Igna Van Der Weide, materials technology specialist, Zotefoams, highlights the use of Poly VinyliDene Fluoride (PVDF) foam in cleanroom insulation applications, originally published in Medical Plastics News.