The Habonim Impact Spring Assist
Many sites have actuated valves that are sticking or not closing properly, sometimes this is because the actuator has weakened and sometimes it is due to a product preventing closure.
To help overcome this problem, Habonim developed the Impact Spring Assist, a mechanical device that just bolts onto any spring return actuator and gives it a boost (using the existing air trapped in the actuator) to help the valve close.
Features / Advantages are:
One size fits all actuators.
Increases closing torque by 50% or more.
Increases system reliability.
No external energy or wiring.
Dynamic reaction.
Namur interface.
Internal breather block.
Can allow for smaller actuators to be used.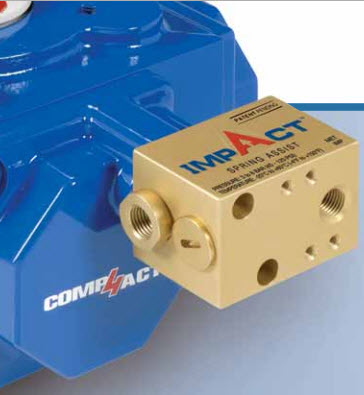 The Impact can be used as a band-aid assist to close valves that are not closing, especially where production does not allow for shutdowns.
Click here to download the Habonim Impact Assist Brochure or send us a product enquiry.
ESI has been a Habonim Master Distributor for the UK & Ireland since 2000.