A solution to the problem of operators getting burnt operating process equipment in Aseptic or clean rooms
Case study:
A pharmaceutical company made upgrades and modifications to their fermentation plant, which resulted in additional equipment being installed into an existing room on the production floor.
This resulted in a "make it fit" design solution which, while at design stage worked OK, later on caused problems with access to valves and other types of equipment for operators.
Even before full start-up of the new equipment, Health and Safety began to receive many complaints from operators about burns to their hands while trying to open /close valves, as these were now located behind the original product-line pipework.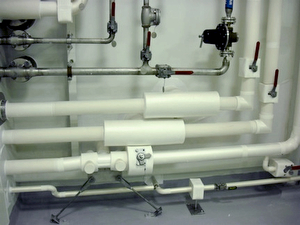 The need to counter a significant Health & Safety risk to operators by using standard insulation was almost impossible due to its wall-thickness and the amount of available space. Engineers chose to retro-fit the production area pipework with T-Fit insulation, due to its low-profile design.
T-Fit insulation's unique design enables it to be fitted into the smallest space possible while providing protection to operators. Its compression-moulded closed‐cell ZOTEK® F, Kynar®PVDF foam provides coverage typically from -50C to +155C.
An additional benefit since the installation, apart from the obvious Health & Safety issue, has been a reduction in heating costs. This reduction is already giving a pay-back towards the installation costs, and will continue to do so for the lifetime of the plant.
Benefits of T-Fit®:
specifically developed for process lines and equipment in Aseptic – cleanroom environments
require no jacketing and has a temperature range of -50C to 155C
wall thickness of only 6.35mm (1/4″) saves space and allows for insulating areas that cannot be covered using existing methods
fast, easy installation with custom moulded fittings and an overlapping self-adhering tape
excellent moisture, chemical and UV resistance
low smoke, flame and toxicity properties
Click the link to review further information about clean room insulation, contact us via the product enquiry form or call Derek Clifford on +353 21 4510900 or +44 1633 877505.