What is involved in filter change-out risk assessment?
Why do users undertake Rick Assessment? Whether it is delivery issues, pricing or a process change, users are often faced with a situation where they may require to change filter type or vendor. This will entail a Risk Assessment for change control
Like-for-like compatibility needs to be demonstrated. We suggest a simple Cross Reference Sheet whereby all the process parts are listed side by side to demonstrate a like-for-like comparison OR to show where there is any difference: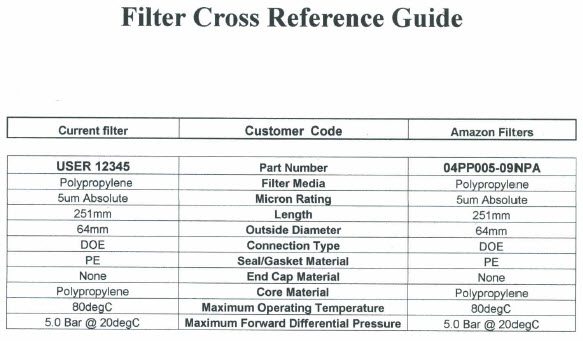 So what are the steps required?:
Media: needs to be compatible with process fluids
Micron Rating: needs to achieve customers' requirements
End Cap Style: needs to be securely located inside the housing
Gasket Type / Materials: needs to be compatible with fluids and secure elements in place
Diameter: to show the volume or surface area of an element
Max working temperature limits: needs to be compatible with process conditions
Max working pressure limits: needs to be compatible with process conditions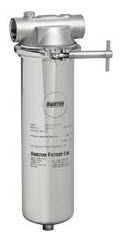 The customer's Quality Department needs to be given a full Element Quality Manual. If ESI is involved our Product Validation Guide would be supplied to verify all the information supplied in this document on Filter Change out
How can we help you?
We meet with the end user and discuss the process and operating conditions
We then offer our Filter Change-out Risk Assessment prepared by ourselves, in conjunction with our supply partners, which analyses critical process criteria against the current supplier's filter cartridge selection
We assess the current filter for fitness purposes and propose replacement products to deliver added value (such as cost reduction or technical problem resolution). These alternatives may or may not be directly equivalent to the existing product but will always be demonstratively fit for the purpose
A complete validation support document package is issued to support the risk assessment
This methodology has delivered six-figure cost reductions to multiple API plants throughout Ireland and the UK
Click here to learn more about the ESI / Amazon filter range
If you are interested in knowing more about how to handle Filter Cartridge Risk Assessment, send us a product enquiry, or contact Derek Clifford on +44 1633 877505 or +353 21 4510900