PTFE Butterfly Valves have historically received bad press due to the perception that they leak. However, with advances in technology and design, manufacturers are now supplying high-quality valves that are bubble tight.
So what are the Design Features to look out for?:
The top flange conforms to EN / ISO 5211.
A butterfly valve that complies with the requirements of the heating system regulations
A one-piece disc/shaft with a centric bearing is safe against expulsion. Note the coating should be virgin PTFE with a thickness of at least 3mm.
The shaft support is critical, specify at least 3 maintenance-free bearings
Ensure the sealing surface between disc and body liner is a matched machined pair to ensure long trouble-free operation and no leaks.
The attention given to detail in the sealing area – specify at least double sealing.
Ensure the PTFE coating thickness on the seat is at least 3mm and the wide chambered sealing serves as a double-sided sealing of the flanges.
The liner and the body are profile matched to prevent the liner from being moved during operation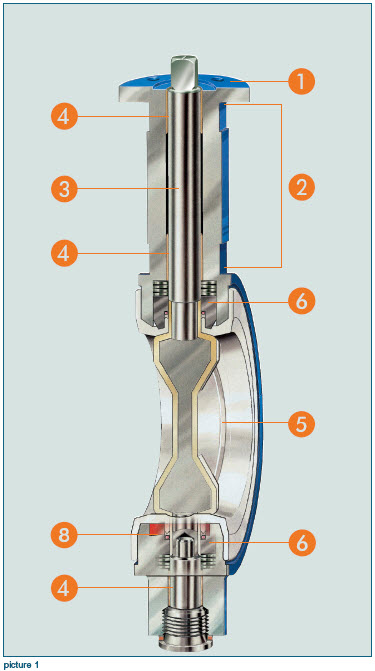 The liner is a critical component
The liner has to be of a stable design as per 8 above
The operational surfaces of the shaft sealing should be mechanically machined to ensure a proper and accurate fit. With lack of memory in PTFE, is critical for high cycling valves
The matched and machined sealing surfaces ensure 360-degree sealing. Kv values, as well as opening and closing torques, are optimised
EBRO has been at the forefront of valve design for years, The above design features will ensure long service life is guaranteed.
For further information please send us a product enquiry