What is SIL?
The current Safety Integrity Level (SIL) international safety standard provides suppliers and users with a common framework on which to design products and systems for safety related applications. The standard also provides a more scientific, numerical approach to specifying and designing safety systems, enabling the nature of risk to be quantified.
SIL means risk reduction to a tolerable level.
The two SIL certification standards that relate to process plants are:
The required safety level of a process plant is classified in accordance with the international IEC 61511 standard and depends on the risk constituted by a plant.
The IEC 61508 standard describes the requirements of electrical, electronic and programmable electronic devices used in such plants. It relates to the functional safety of products or systems whose failure to operate reliably could harm people.
There are 4 SIL Categories (3 under ISA and 4 under IEC) The higher the SIL number is the more reliable or effective the system is.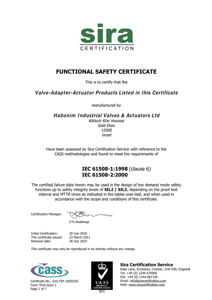 SIL probability of safe failure:
SIL 1 90%
SIL 2 99%
SIL 3 99.9%
SIL 4 99.9%
As SIL relates to automated packages only, components (valve mounting kits and actuators) have to be analysed separately, as packages could contain valves or actuators from other manufacturers.
Supplying Actuators & Valves for a SIL system is an immense responsibility and commitment. The Habonim Compact Actuators & Ball valves in the ESI portfolio have attained SIL 2 / SIL 3 safety integrity level. SIL 3 is the highest rating used in the process industries.
More here on the design features of ball valves & design features of the compact actuator.
If you have any SIL certification-related enquiries contact Brian Foley or Darryl Flowers at ESI Technologies (Habonim's master distributor in Ireland & the UK since 2000) on Ireland: +353 21 4510900 or UK: +44 1633 877505.