Factors to Consider in BioPharm & Pharmaceutical Applications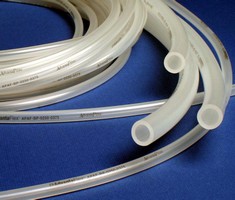 Tubing used in critical applications like pharmaceutical and biopharm has particular requirements involving sterilization, performance, extractables and leachables.  How do you know whether silicone or thermoplastic elastomer (TPE) tubing is best for your application? Consider these similarities and differences to help make your decision….
Tubing manufacturing method:
Silicone is a thermoset material. Raw compound is extruded into tubing and heated.  It undergoes a chemical reaction that permanently sets the tubing's shape.
TPE is a thermoplastic, a material that will change shape if reheated.  This is what makes TPE heat sealable and weldable.
Temperature resistance:
Silicone: AdvantaPure's unreinforced silicone tubing (APST) handles temperatures from -100°F to 400°F (-73°C and 204°C).
TPE: AdvantaFlex TPE can be used between -88°F and 275°F (-66°C and 135°C).
Hardness:
Silicone: Shore A 50
TPE: Shore A 65
Validations and extractables:
Silicone: Platinum-cured silicone is inherently purer than perocide-cured silicone and offers fewer extractables (substances that can be drawn out of a material). AdvantaPure's APST has undergone testing involving USP, ISO, CFR, EP, 3-A and NSF standards.
TPE: AdvantaFlex biopharmaceutical grade TPE has underonce testing involving USP, ISO, CFR, and EP standards.
Connection methods:
Silicone: Attaches to other tubing and equipment by using sterile connectors.
TPE: Attaches with connectors like silicone but is also sterile weldable, thereby saving the expense of sterile connectors
TPE Tubing Features:
Sterile weldable
Heat sealable
Pre-sealed tubing ends stocked
No silicone oils
Low permeability as compared to silicone
Silicone Tubing Features:
Extremely flexible
Handles temperatures from -100°F to 400°F
NSF-51 listed
Stocked in 36 sizes
Both material are:
Moldable into leak-proof tubing manifold connections and BioClosure® container closure assemblies
Available with validated sterility assurance, comprehensive validation packages, and extractable test portfolios
Made without animal-derived ingredients
For further information on tubing please send us a product enquiry or contact Emma Duffy in Ireland: +353 21 4510900 or UK: +44 1633 877505. For Benelux contact +31 85 0499770 or mail: Rob Mijnsbergen