T-Fit® Insulation – Reducing Energy Consumption & Controlling Condensation

Does your site suffer from pipework and system condensation?
Are you looking to make cost and energy savings?
Frustrated with closing production lines for insulation maintenance?
Does your existing system insulation look like the below?
It is commonly understood that just 4% water absorption by insulation can lead to a 70% reduction in its thermal performance. Furthermore, a staggering 98% of insulation failures are due to this water absorption/wicking. Failed or poor-performing insulation can lead to injury and product contamination.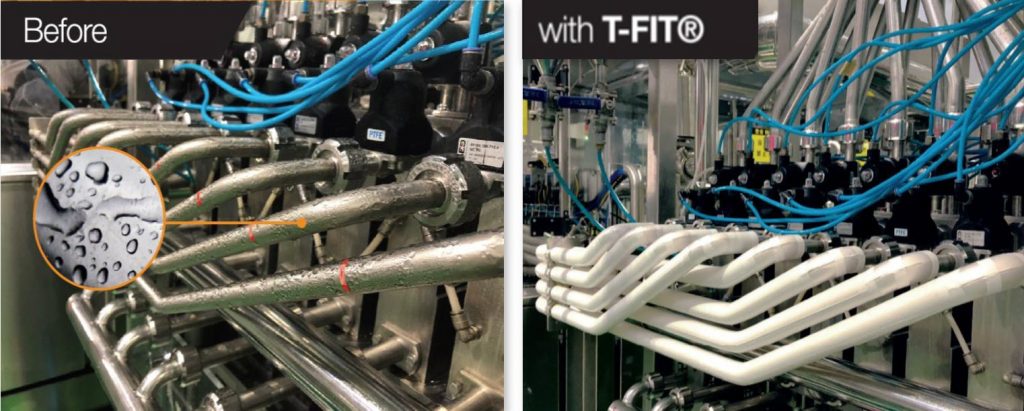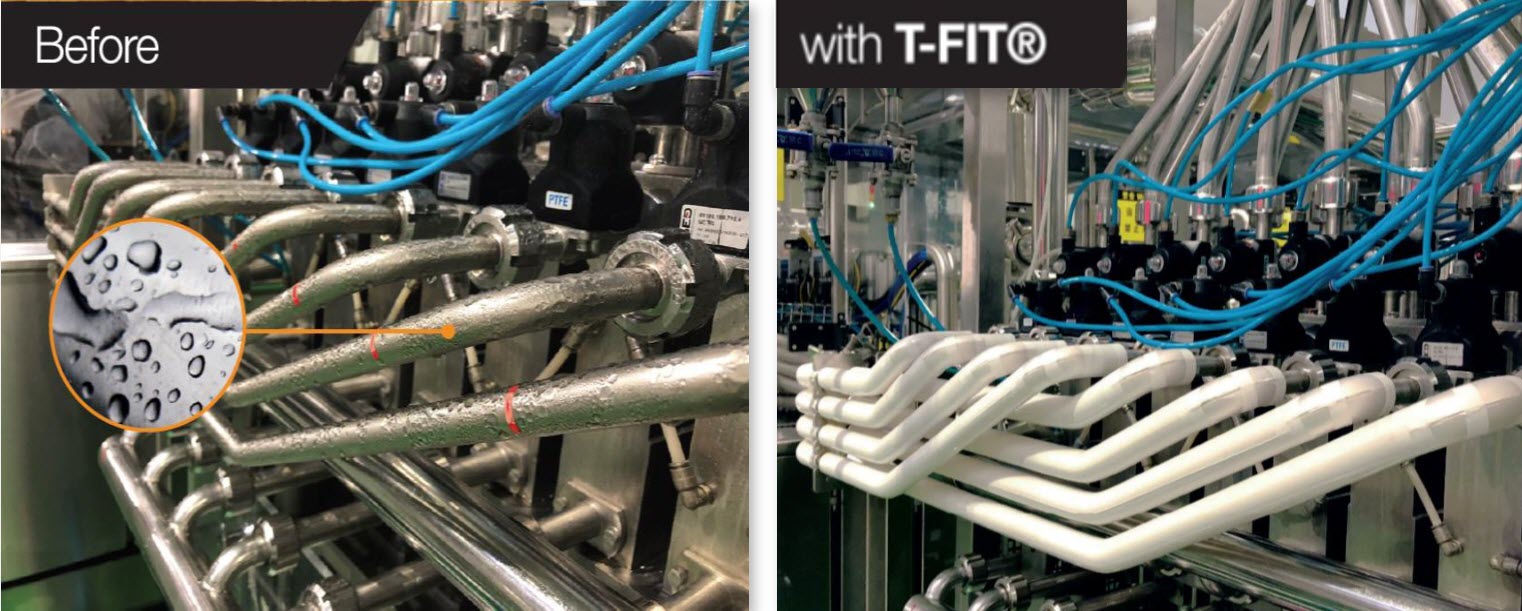 Cold pipework can be found throughout the Food, Beverage and Dairy processing industries and is often clad with an open cell foam or wool-based insulation clad in stainless steel which by its nature is prone to absorbing water. Over time, condensation sitting on the surface of pipework, and moisture absorbed by open cell insulation, will encourage spore growth and mould, leading to potential contamination and compromising the quality of the product itself. This can be particularly difficult to prevent in hard-to-reach, limited space areas with a complicated pipe run often found in the industry.
When did you last take a close look at your insulation?
T-Fit Hygiene F43HT PVDF offers an innovative solution to this problem as the thinnest fully closed cell insulation in the Food, Beverage, and Dairy processing industries.
First developed for use in biotechnology cleanroom environments, T-FIT is a fully closed cell product that absorbs no moisture. This makes it the perfect material for preventing condensation from forming on the outside of cold pipework, especially in Food & Beverage manufacturing environments.
Supplied in single-layer tubular or flat form, T-Fit Hygiene has a unique 6.35mm wall thickness and an operating temperature range of -80°C to +145°C, one product is suitable for both chilled and hot processing applications. It's tested against ASTM G21, fire rated to EN 135011 B-S1, particulate free, and has exceptional stability and chemical resistance. It's fixed in place by a PVDF tape or adhesive, meaning it is safer, quicker and easier to install. It's possible to insulate 100% of the line and on-site personnel can also be trained to fit and maintain. This greatly reduces install times and eliminates site downtime. It can also help with available space when planning, reducing pipe centres and the footprint for skids, vessels and larger machinery.
The materials used to make T-FIT insulation have been tested against ASTM G21 to determine their resistance as polymeric materials to fungi. The tests are carried out in conditions favourable for mould growth, at temperatures of 28-30°C and relative humidity of over 85%. T-FIT F43 HT material achieves a mould growth rating of zero for this test, where there is no observed growth on specimens (sporulating, non-sporulating or both, see below image)
The manufacturing process, coupled with the PVDF material selection, produces a high purity foam that is noncorrosive and non-toxic, with low odour and outgassing characteristics. The foam produced is a completely closed cell, giving superior insulating properties, and eliminating moisture and gas penetration through the material.
T-FIT can be considered the simplest and most cost-effective high-performance insulation on the market. T—FIT Hygiene & Process allows for greatly reduced installation costs, a much smaller footprint to achieve maximum coverage, vastly lower operating costs and a reduced risk of cross-contamination through its particulate-free and mould-resistant design. Add all these benefits together and you get the lowest Total Cost of Ownership of any high-performance insulation system.
By following the below links you can see how quickly and easily T-FIT® insulation products are installed; Hygiene Straight Piece Installation, Hygiene Radius Bend Installation, Hygiene Reducer Installation, Hygiene 90-Degree Elbow Installation.
If you would like to speak to a product specialist about the T-FIT range, please get in touch via our website – Contact Us at ESI Technologies Group.