Question: Why Aseptic Tank connectors?
Answer: Zero Dead Legs
Equipment with TC (TriClamp) connections such as sampling devices, valves or pressure gauges can create dead legs that prevent adequate cleaning and air pockets that prevent sterilisation.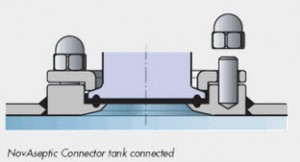 NovAseptic Aseptic Tank Connectors are flush mounted and therefore eliminate these problems, saving time and money by speeding up CIP/SIP and making validation easier.
What are the benefits of Sanitary / Aseptic Tank connectors?
No dead-leg – speeds up and ensures quality of CIP / SIP
Makes validation easier
Flexible – fast and easy to adjust your process system, even for unforeseen needs
In-line version – fast and easy to adjust your process system, gives the best conditions for control of the  total process
Easy and Safe – easy maintenance and the risk of human error is reduced
Total aseptic design – NovAseptic Connectors prevent contamination problems and contribute to a clean environment even outside the vessel
PED certified products are approved by Notified Body, saving time and money
3.1.B certificate on all wetted parts
Full traceability of all wetted parts
For further information, please send us a product enquiry