Cryogenic ball valves are used at extremely low temperatures, typically lower than -40℃ down to -196℃.
Cryogenic ball valves are mainly used for liquid media with low temperatures, like liquid oxygen, liquid hydrogen, liquefied natural gas and liquefied petroleum products and industrial gases. Such media are not only flammable and explosive but will vaporise when heated so the volume expands rapidly during gasification.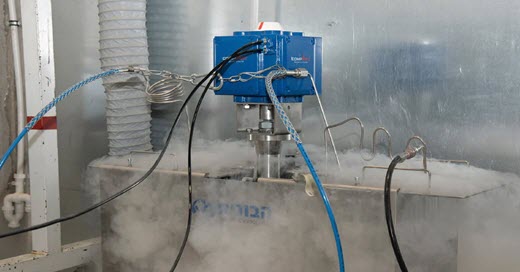 Under extremely low temperatures and in the harshest of environments, Habonim's series of cryogenic ball valves consistently exhibit high flow capacity, tight shutoff and long service-free life. Unmatched in reliability, stability and, most importantly, safety, Habonim's cryogenic ball valves are used in air separation plants, industrial gases, LNG storage, distribution and transportation, and in the aerospace, petrochemical and medical industries.
Features of the Habonim Cryogenic Ball Valve
Efficient heat transfer
Narrow space between extension ID and stem OD keeps the stem seal at ambient temperature
Bonnet angle
Up to 45° from vertical allowed for the 12″ bonnet (fully BS6364 compliant)
HermetiX™ Stem Seal
ISO 15848-1 certified
Graphite-free, Fire safe design
High endurance of up to 500 thousand cycles
Anti-abrasion mechanism
Live loaded
No Trapped Cavity
Relief hole on the upstream sphere of the ball to prevent pressure build-up in the cavity
Minimum Thermal Expansion
One size up and shorter body bolts
Additional spring washers
Stem
'Blow-out' proof
Solid one-piece stem.
Tight stem-to-ball engagement.
High torque durability
One-Way Assembly
Integral rib and asymmetric groove ensure correct assembly.
Tongue & Groove Labyrinth Design
Zero leakage to the atmosphere.
Full compression of encapsulated body seal.
Accurate alignment of all parts.
Flow direction indicators
Highly visible arrows on the body and bonnet top.
"T" mark on the stem, showing relief hole direction Operation Lever. or gear operated, pneumatic or electric actuated.
Cryogenic Ball Valve Applications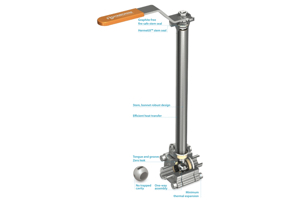 Air separation plants
LNG storage
Distribution and transportation
Aerospace
Petrochemical
Medical industries
Types of Cryogenic Ball Valves
ESI Technologies Group are proud partners of Habonim Industrial Valves which are world leaders amongst the select few suppliers that have the expertise and capabilities to overcome these challenges.
If you would like more information we would be happy to speak with you.  Call us at Ireland +353 215410900 or UK +44 1633877505  or send us an enquiry via our online form or use our web chat.