For sanitary applications or when it is necessary to install actuators in a clean room, the standard industrial actuator may present a problem as the specification usually calls for "crevice free" equipment
There is a simple solution: the Habonim "Dome", which fits over the Habonim Compact Actuator, an actuator so reliable it comes with a 7 year warranty.
This has been used in many Pharmaceutical / Biotech plants to satisfy the "Clean Room" standards. There is also the option to incorporate Switches or Proximity Sensors within the Dome.
The encapsulation provides a cost-effective alternative to installing a fully stainless-steel actuator, and is both weatherproof and able to cope with caustic and other corrosive environments.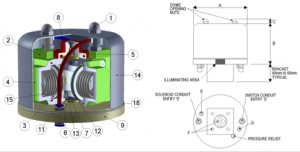 Should you have such an application and require further information, then please contact us – Ireland +353 21 4510900 or  UK+44 1633 877505, or send us an enquiry.