If you are looking for a high quality pneumatic quarter-turn actuator, then the Habonim Compact is worth consideration. So reliable is the Compact, it comes with a 7 year warranty.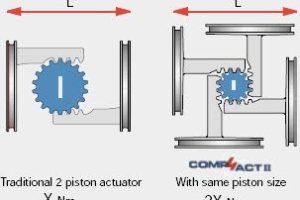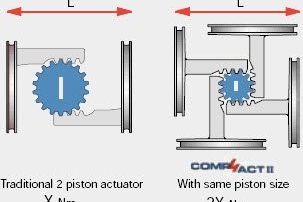 How are Habonim able to offer a 7 year warranty?
It's all down to the innovative design features of the Compact:
Uses 4 pistons as opposed to 2 hence double the torque.
Pistons drive from the centre – so are balanced.
No steady bearings or guide rods needed
Uses less air
The Habonim Compact can be used on any quarter turn valve, like a ball or butterfly valve and is invaluable where space, weight, air consumption and reliability are required:
Benefits
Powerful:

Compact four pistons generate twice the torque of comparably sized two piston designs

Energy Saver:

Compact reduces the average air consumption by 50% due to compact physical size

Fastest:

Compact has faster stroke due to shorter travel distance

Smallest & Lightest:

Compact size is about 50% of a traditional 2 piston actuator with same torque value, due to the 4 piston design

Minimal & Easy Maintenance:

Less wear of moving parts,easy spring configuration changes and fail/safe advantages,
In the 17 years we have been supplying the Habonim Compact to the chemical / pharmaceutical industry we have never had to supply spares kits for them. Hence the 7 year warranty.
Click here to download a Habonim Compact Brochure or contact ESI Technologies who have been the Habonim Master Distributor in UK and Ireland for 17 years.
Has your site got sticking actuated valves that will not close? Click here to read about the Habonim Impact Assist