Valves for the Mining Industry and Abrasive Applications:
Stafsjö's slurry valves: the SLV, fully-flanged SLF, the high pressure SLH and extreme high pressure SLX; are all suitable for the most abrasive and demanding slurry where operational reliability and low life-cycle costs are emphasised.
The proven and unique shut-off technique along with excellent flow characteristics, makes them long-lasting and popular among users worldwide.
Stafsjö's slurry valves come in coated nodular iron with integrated purge ports.
The unique seat comes as standard in low-friction special EPDM or natural rubber, which seals against a gate in stainless steel with a hard chromed surface in order to withstand the heavy wear; or with a Nedox coating on the high pressure versions in order to minimize the friction and to maximise service life.
All of Stafsjö's knife gate valves are modular designed which makes them extremely easy to customise.
Additionally, with individual traceability, it is also easy to supply spare parts and conversion kits on already supplied valves.
Sealing principle of slurry valves:
Opened valve :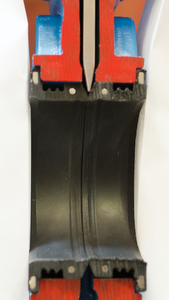 When the valve is fully opened the seats seal towards each other in the bore, thus forming a tight extension of the pipeline where only the seats are exposed to the media – no metal parts. Minimal seat cavity prevents accumulation of media in the bore.
All Stafsjö Valve come with Twinpack™ Gland Packing:
The braid is built up of strands of graphite-filled Teflon with silicone lubricant. The braid is precisely plaited together with Teflon-impregnated Kevlar fibre strands which are positioned at the corners of the braid as reinforcement.
The rubber core is made of silicone. The design, with the rubber core, gives the packing a more flexible, elastic profile and function. The diameter of the core has been established through extensive laboratory tests and confirmed in countless installations. The disadvantage of a bigger rubber core, as used in some other manufacturers' valves, is that the core separates from the braid when the packing is compressed and exposed to valve cycling.
Stafsjö developed this braid system together with a packing producer in combination with many running tests in their lab for verification of the performance of the sealing function.
Reliability: in cycle-testing the packing lasted 4 times longer than competitors' products before a leak was detected. The design on the packing as well as the control on the surface finish of the gate ensure tight long-lasting sealing.
For further information on knife-gate valves contact Brian Foley or Zane Flaiani on Ireland: +353 21 4510900; UK: +44 1633 877505; or via the product enquiry form