Today there is an ever increasing demand for quality fire-safe valves due to a number of factors, which include:
Rising insurance costs for liability due to personal injury or loss of life
Property damage
Tighter environmental and safety regulations
Loss of materials through leakage
The high cost of system shutdown and loss of product
Continued development of the HermetiX™ technology led to Habonim's revolutionary graphite-free fire-safe stem-seal design. A polymer-based stem seal and a unique trim construction holds the stem aligned and preloaded even after a fire.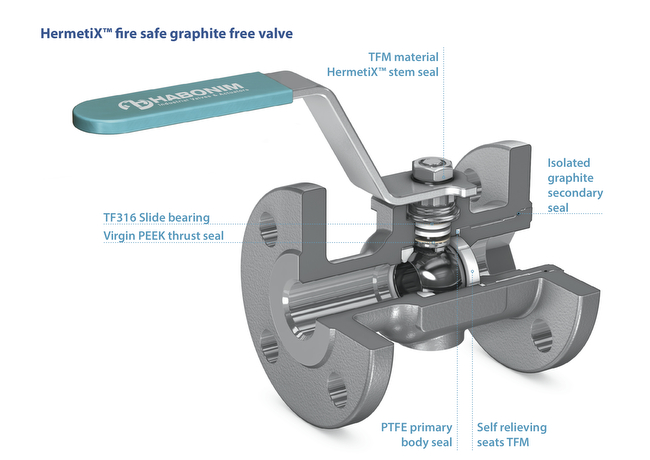 This unique fire-safe valve design specially designed for the API Pharmaceutical industry includes a non-graphite HermetiX™ stem seal consisting of a virgin PEEK thrust bearing and anti-abrasion ring, and a stem seal made of TFM material. Both virgin PEEK and TFM are FDA approved.
A double body seal set is comprised of an internal PTFE body seal facing the media, and an external graphite seal to withstand the fire. This configuration effectively isolates the graphite seal in a dry cavity, preventing it from coming in contact with the media, ensuring a high level of purity for the valuable media.
Prevents media contamination from graphite particles
FDA-approved polymer materials
Ensures uninterrupted production
Fugitive-emission certified to ISO 15848-1
Fire-safe certified to API 607 and ISO 10497
Minimises shutdowns for maintenance up to 500,000 cycles
Increases site safety
Self-relieving seats (SRS) as standard
Options include: Cleaned assembled and packed for oxygen service
Rob Leadbeater or Darryl Flowers on UK: +44 1633 877505; or Brian Foley or Zane Flaiani on Ireland: +353 21 451 0900; can provide more information on the Habonim HermetiX™ "G" range of valves – a valve so reliable it comes with a 4 year warranty and exceeds the ISO 15848-1 standard – or send us a product enquiry for more details.