How many cycles can a rupture disc achieve before failing?
HPX® rupture disc tested to over FIVE MILLION cycles. This cycle test is more than 5x greater than previously achieved in the industry.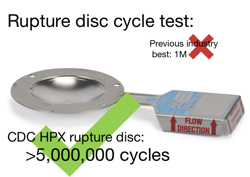 The test, on a rupture disc constructed of 316 SS, was performed under laboratory conditions.
The 1″ 22 psig-rated disc was subjected to 5,050,000 pressure/vacuum cycles without failure. After completion of the test the HPX disc passed all non-destructive testing to confirm the disc integrity.
The rupture disc was then burst-tested and had an opening pressure within the design tolerance.
For further information on rupture (bursting) discs, send us a product enquiry, or call Myles Sheehy on +353 21 4510900 (Ireland); or Rob Leadbeater on +44 1633 877505 (UK).
There is also further information on rupture discs and Tank & Process Equipment on our website.