Amazon has just launched SupaPore TLB filters. What are they?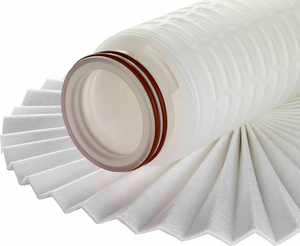 SupaPore TLB filters are manufactured using a PTFE membrane and Halar ECTFE hardware and support layers. This provides a cartridge that shows significant resistance to chemical attack at an attractive cost.
Where can they be used?
Due to excellent compatibility with a wide range of chemicals these filters are ideal for the filtration of solvents and chemicals and for manufacturing operations where solvents or chemicals are a significant element in the composition of the product or in the production process.
All materials of construction meet the FDA requirements in accordance with CFR 21
Passes Biological Safety Tests for Plastics as specified in the United States Pharmacopoeia (Class VI Plastics (121°C) Testing)
Non-cytotoxic as per MEM Elution Test, ISO 10993-5
Extremely low levels of extractables – < 6mg/10" filter
Meets US and EU BSE/TSE compliance standards
Supported by integrity test data so are ideal for the most critical applications
SupaPore TLB All-fluoropolymer Microfiltration Cartridges have been specifically designed for use in corrosive gas and liquid processing applications. A naturally highly hydrophobic PTFE membrane and Halar ECTFE structure makes this the cartridge of choice where high resistance to aggressive fluids is required.
Product Features
A naturally hydrophobic PTFE membrane
Halar ECTFE hardware
Extremely low extractable levels so ideal for high purity applications
Excellent chemical compatibility
Materials meet the requirements of 21CFR Part 174-190 and current USP Plastics Class VI – 121C Testing
Fully integrity testable by Water Intrusion Test
Operational temperature up to 80C
Suitable for sanitisation by all common sanitising agent
All cartridges are thermally bonded and adhesive free. Each unit is integrity tested before final assembly. They are available in a range of absolute pore sizes:
0.05μm
0.10μm
0.20μm
0.45μm
1.0μm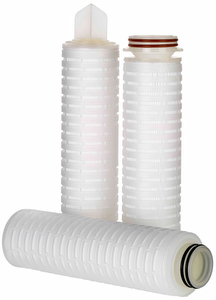 Industries and Applications
Food and Beverage: Ozonated water
Pharmaceutical: Solvent and chemical filtration, ozonated water
Fine Chemicals: Solvent and chemical filtration, ozonated water
Electronics: Photolithography chemicals, general chemicals, ozonated water
Features and Benefits
Full Fluoropolymer construction results in a cartridge that withstands long term exposure to many aggressive chemicals and solvents
Defined removal ratings for consistent and reliable performance
High chemical resistance to most solvents
Very high resistance to most oxidising agents
Integrity testable by the user
Full Product Validation Guide available
For further assistance with filtration information please send us a product enquiry or contact Derek Clifford on UK: +44 1633 877505; or Ireland: +353 21 4510900.