Why use a Dead Man's Handle or Spring Return Handle on a Ball Valve?
A major pharmaceutical plant had an issue with operators leaving valves open after the filter cartridge changed out. The results of which can affect: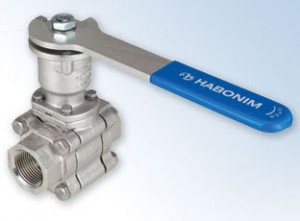 Production: Loss of product
Health & Safety: Exposure to personnel
Environmental: Exposure to the atmosphere
This prompted a review of the operation of their:
Sample points
Drain points
Purge points
ESI Technologies were asked if they could design a neat Dead Man's Handle or Spring-Return Handle as the existing solutions on the market are either designed for utility plumbing-type valves or are so strong they can harm operators or damage process equipment.
Within 3 weeks of posing the problem to Habonim, a sample from bar stock was on site for the test. So successful was the solution the site ordered hundreds of units. These can all be retrofitted to existing Habonim valves up to 1.5″ without affecting the valve in service.
For further information please fill out our enquiry form or contact us on Ire: +353 21 4510900 or UK +44 1633 877505