..and when / why would I need one?
What is a Mag-drive pump?
Mag-drive pumps are a design of magnetically-driven chemical-process pump which eliminate the need for shaft sealing. This greatly reduces the initial cost of the pump as well as day-to-day operational costs as there aren't any mechanical seals, seal-fluid pots, or cooling lines fitted.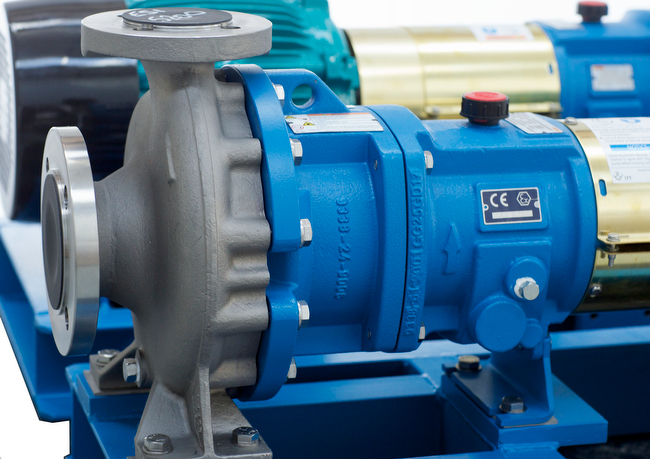 The connection between the motor drive and the pump drive is made via a magnetic connection which works through the isolation shroud. This means that there is no direct or indirect path through which any fluids or gases can escape which can pose a risk to both operators and the environment.
Mag-drive pumps comes in a variety of materials of construction including cast iron / ductile iron, 316 stainless steel, and Hastelloy. This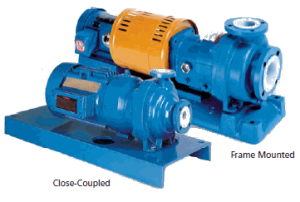 type of pump contributes to the technical standardisation in process engineering thanks to its universal applications.
Mag-drive pumps are available in close-coupled and long-coupled (frame mounted) configurations.
When / why would I need one?
Generally when the product being pumped is of a corrosive nature, or the leakage of that product has the potential to harm operators or cause damage to the environment.
Examples of such products would be:
Hydrochloric Acid
Methane
Sodium Sulphate
Sodium Hydroxide
Sodium Hypochlorite
Sulphuric Acid
What would be some typical applications those products are used in?:
Tanker Unloading
Batch Chemical Processes
Speciality Chemicals
Column Reflux
Reactor Feed
How does it differ from, for example, a single / double mechanically-sealed pump?:
Most pump types, apart from magnetic drive pumps, have a shaft which passes through the pump casing. The shaft is surrounded by a seal which has the potential to leak. This leakage can be minimised firstly through seal quality, and secondly by the use of a seal-fluid pressurisation system – commonly referred to as "seal pots". The adjacent image shows a discpac Discflo long-coupled pumping system, fitted with a seal-fluid pressurisation system.
The seal-fluid pressure is higher than the suction pressure in the pump. It prevents, or at least minimises the potential for, the product escaping past the seal.
For applications where the potential of even the smallest quantity of product escaping could be hazardous, however, the mag-drive pump is a solution as there is no shaft seal for the the product to escape past.
This can be seen clearly in the graphic below, where the product being pumped (shown in red) has no connection directly or indirectly to the pump shaft: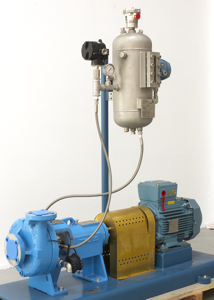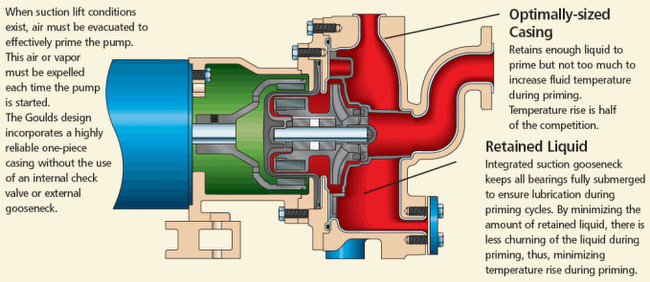 Benefits:
Reduced customer Life Cycle Cost (LCC) by minimizing maintenance, operating & installation cost
A comprehensive range of materials and accessories are offered to meet customer needs
Integrated possibilities to connect safety & monitoring devices, e.g. Goulds PumpSmart®
Design standardization & simplification to provide for easy maintenance & to minimize spare parts inventory requirements
Drive magnet assembly with high-performance permanent magnets
Design Features:
Close-coupled Design
Arrangement eliminates need to perform pump / motor alignment. Single piece, dual-bolt circle adapter accommodates required motor sizes for maximum application flexibility.
Long-coupled (frame-mounted) Design
For ease of dis-assembly for preventative maintenance, overhaul or general periodic inspection.
One-piece Enclosed Impeller
Minimizes axial thrust for extended thrust bearing life. Unlike two-piece designs, one-piece construction eliminates possibility of front shroud failure.
Solid Stationary Shaft
Fully supported stationary design maximizes radial bearing life and reduces shaft deflection. Straight geometry eliminates stress concentrations and possibility of failure during pump operation
Rare-earth Magnets
High strength neodymium iron, provide high torque and hard-start capability without slip. Drive is synchronous.
In-line configuration:
Another option available with a mag-drive pump is an in-line version, where the pump is installed vertically. In-line mag-drive pumps are generally close-coupled, although a long-coupled configuration is possible. In-line configuration can be useful where space is at a premium as the pump is installed directly in the line, just like a valve:
Alternatively, send us a product enquiry for further information on using Mag-drive pumps for specific applications (or information on other pump technologies) or speak to John Scott on Ireland: +353 21 451 0900; or UK: +44 1633 877505.