How Does Carbon Filtering Work?
Carbon filtering works by absorption, in which pollutants in the fluid to be treated are trapped inside the pore structure of a carbon substrate. The substrate is made of many carbon granules, each of which is itself highly porous. As a result, the substrate has a large surface area within which contaminants can be trapped. Activated carbon is typically used in filters, as it has been treated to have a much higher surface area than non-treated carbon. 
API Manufacturing | Amazon Filters
Our Carbon Block systems offer a high surface area of active carbon in the convenience of a cartridge. As carbon selection is critical, the washed, pharma grade carbon available in the SupaCarb CP provides superior colour reduction while minimising mess and wastage. Get real-time feedback on fluid quality during the production process to understand the condition of carbon beds and ensure a spec-free final product. See our leading API manufacturing solutions for healthcare and pharmaceuticals. Amazon Filters can develop innovative solutions for your exact needs. 
Where Is Activated Carbon Used In Pharma?
Activated Carbon Filters | Amazon Filters
Activated carbon is commonly used for the removal of chlorine, heavy metals, low molecular weight-coloured impurities, reduction of odours, and for the capture of catalysts by the Pharmaceutical, Beverage, and Chemical industries.  
Using loose activated carbon powder presents many operational challenges due to concerns about Health & Safety and plant cleanliness. To help users overcome these problems Amazon Filters supplies cartridges containing immobilised activated carbon that provides effective removal of contaminants in a clean and easy-to-use format. 
What Options Are Available?
SupaCarb BE – Activated Carbon Filters | Amazon Filters 
SupaCarb BE filter cartridges feature an acid-washed, high-purity coconut-based carbon block combined with a double-layer, spun-bonded fibre pre-filter layer to produce an economically superior high-capacity carbon block filter. This makes SupaCarb BE ideally suited to the treatment of potable water systems for the reduction of taste, odour, and other contaminants including solids. The BE grade offers an extremely
economical solution to many common liquid treatment applications wh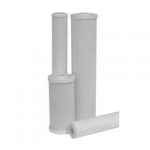 ere a need for effective carbon treatment is required. The rigid block construction eliminates any potential bypass. BE grade high purity coconut-based carbon block media.
SupaCarb BP – Activated Carbon Filters | Amazon Filters 
SupaCarb BP cartridges use a unique sintered carbon technology that combines the best features of both powdered (PAC) and granular (GAC) activated carbon in one cartridge. These elements use SupaGard spun-bonded media as a pre-filtration layer and are available with moulded polymer ends for superior sealing and enhanced product performance. Combining high-purity powdered and granular carbon provides
the very highest available surface area for a 10" cartridge. The resultant superior absorption and on-stream life make the SupaCarb BP the very best choice of carbon cartridges. 
SupaCarb CP – Activated Carbon Filters | Amazon Filters 
SupaCarb CP offers the very best in activated carbon technology. The cartridge is manufactured using a unique sintered carbon
that is specifically designed for maximum decolourisation and organic contaminant reduction. It offers far superior adsorption levels when compared to other carbon block cartridges.
SupaCarb RP/XP – Activated Carbon Filters | Amazon Filters 
SupaCarb RP/XP filter cartridges feature a rolled felt carbon-impregnated media combined with Amazon Filter's unique spun-bonded particulate removal layers resulting in a genuine dual-purpose element. The SupaCarb RP/XP series offers economy with efficiency for chlorine, odour, colour, and trace organic reduction levels. 
Filter Cartridges & Capsules | Amazon Filters 
Amazon Filters supplies SupaCarb cartridges containing activated carbon that provide effective removal of contaminants in a clean and easy-to-use format. We offer products with sintered block or rolled felt activated carbon, either in standard cartridge format or as large-diameter, high-capacity versions. Typical applications include chlorine removal and decolourisation… Amazon Filters develop a wide range of cartridge and capsule filters, including depth, pleated, membrane, capsule & activated carbon filters.  
Contact ESI today, our products specialists will be happy to discuss your filter cartridge requirements. 
Call us in Ireland at +353 21 4510900 or UK +44 1633 877505 or send us a message via our online form or webchat.