Autoclave safety discs (bursting discs) can suffer premature bursting due to the high cycle-rate from full vacuum to high pressure
During an analysis of premature bursting disc failure carried out for a BioPharma plant the following issues were uncovered:
Problem:
Safety discs were failing at a rate of 1-2 a week
There is the cost of replacing the unit
There is a cost of 2 man-hours to change each rupture disc
There is a cost in terms of downtime and batch re-scheduling
Cause:
Until recently the standard sanitary reverse-acting bursting discs on the market were limited to a couple of thousand full pressure vacuum cycles
Discs on autoclaves have typically had a limited lifespan as they frequently see about 7-10 pressure vacuum cycles per day, or even more, and on each cycle they tend to reach as close as possible to full vacuum
Solution: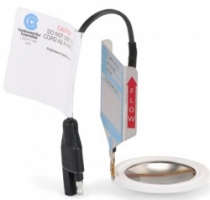 The problem of early failure and unplanned shutdowns caused by fatigue can be overcome by using a disc that was specifically designed for such applications.
CDC Sanitary Rupture Discs
Continental Disc Corporation (CDC) has produced the Sanitrx HPX – A unique sanitary rupture disc developed for sustained use in arduous and high-cycling pressure systems.
These high-precision reverse-acting rupture discs (bursting discs) offer proven performance in excess of 5 million cycles at 95% operating ratio.
The added benefit is that the scoreline is downstream of the disc and out of the process thus offering added clean-ability.
Continental Disc Corporation (CDC) have pushed the boundaries and recent R&D developments allowed them to change the way discs are manufactured by using laser technology and coming up with a new opening mechanism
CDC has carried out intensive in-house testing and as standard has the most rigorous Lot Qualification Procedures in the Industry
This background and expertise in disc testing has allowed them to guarantee 5 million pressure – full vacuum cycles on the HPX rupture disc
For further information on rupture (bursting) discs, send us a product enquiry, or call: Myles Sheehy on +353 21 4510900 (Ireland); or Rob Leadbeater on +44 1633 877505 (UK)