The patented Goulds i-FRAME ™ Power End is the result of over 160 years of design experience, customer interaction and continuous improvement.
The i-FRAME ™ provides customers with increased reliability and on-board condition monitoring intelligence resulting in reduced life cycle costs (LCC) and extended mean-time-between-failure (MTBF).
Enhancements in bearing technology, oil sump design and bearing isolators provide customers with years of worry-free operation. Goulds are so confident with the reliability of the i-FRAME™ they offer a 5-year warranty as standard on every i-FRAME™ ANSI process pump.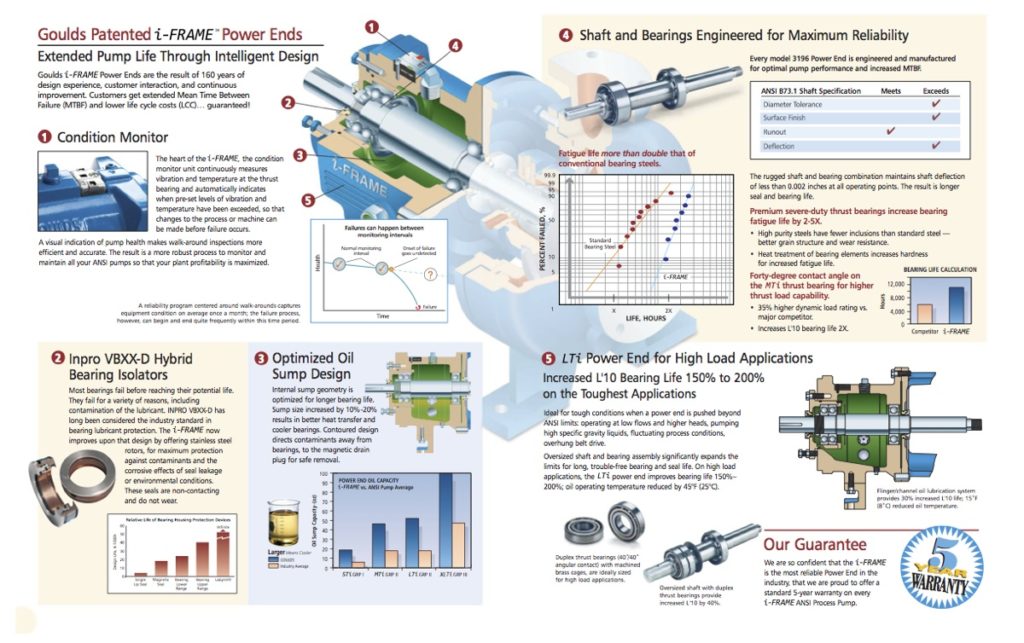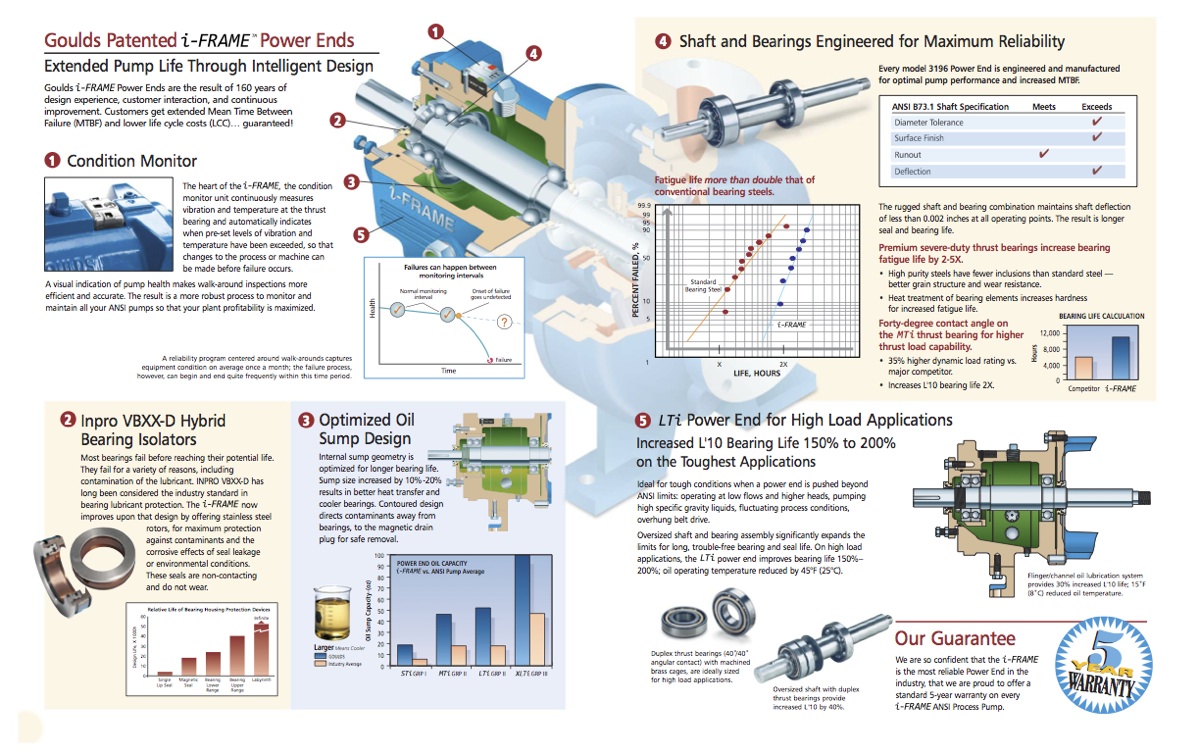 The Goulds i-FRAME™ features:
i-ALERT Condition Monitoring
i-ALERT Measures vibration and temperature at thrust bearings and indicates when pre-set levels have been exceeded
Early warning of potential failure through visual inspection
Data logging with trend analysis
Wireless syncing to mobile devices
Inpro VBXX-D Hybrid Bearing Isolators
Improved design by offering stainless steel rotors
Prevents premature bearing failure caused by lubricant contamination or loss of oil
Superior corrosion resistant in chemical environments
Non-sparking for increased safety.
Premium Thrust Bearings
Greater thrust loading capability and enhanced material of construction
Increased bearing life and performance (2-5 times that of conventional bearings)
Optimized sump design including larger sump and low point drain
Increased Heat dissipation. Collects and concentrates contaminants away from bearings.
Bearings run cooler and last longer
i-FRAME™ Warranty
Designed for reliability and extended pump life, backed with a 5-year warranty
Reduced life-cycle costs and increased reliability
Watch a video of the i-FRAME™ overview:
For further information on the Goulds iFRAME ™ talk to John Scott or John Power on UK +44 1633 877505 / Ireland +353 21 4510900 or send us a product enquiry
Having problems with already installed pumps? You might be interested in these articles we've already published: